Fostering the right kind of restlessness in Ghana
By Sara Veltkamp, Minerva Strategies –
More than ten years ago I came across an Aquarius horoscope that I cut out of the Anchorage Press, a weekly paper published in Anchorage, Alaska, where I was living at the time. The clip has been lost in my subsequent travels, but the suggested "mantra" for the week from playwright W.S. Gilbert still sticks with me: "I am rich in never-ending unrest."
The negative connotation of the word "unrest" juxtaposed with the positive word "rich" is what made the quote stick. While there may be other ways to interpret the meaning, to me it speaks of perception. That this unrest I struggle with can be seen as a strength if approached in the right way – as a motivator for constant self-improvement and challenge. I have never been and will likely never be someone who seeks stability in my life. I constantly want to be challenged and pushed and I realize that I may always have this yearning to be doing something else. I may never be "at peace" and I've come to terms with that.
This past week in Ghana, I met a fellow quester – a friend who feels this same unrest. She is an alumna of Ashesi University, an innovative liberal arts college located outside of Accra and, oddly, her name is also Sarah. Sarah has been working for GE in Accra for 14 months in their Global Growth Organization as a strategic marketer. Her position at GE builds on an already impressive resume of working for the British High Commission, Vodafone, and completing her M.B.A. at Hult Business school in Dubai and Shanghai.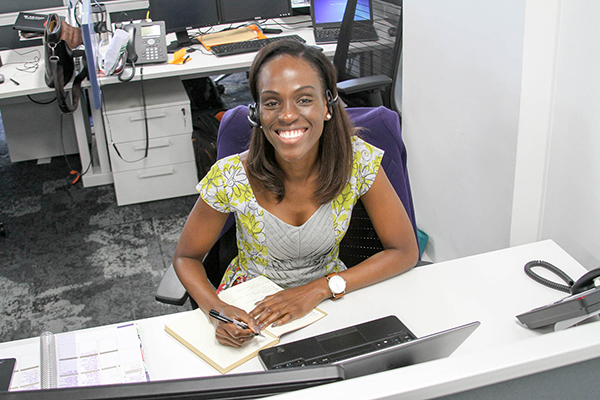 Her current role is to research countries in sub-Saharan Africa to determine the viability of one of GE's products and create a plan to penetrate a country's market, answering questions that include: Who are the main stakeholders with whom GE should build relationships? What are the infrastructure challenges? What are the needs? What are the steps they need to take? It's an exciting job that positions Sarah to work with upper-level executives at GE. She has been wildly successful and her hard work has been greatly appreciated. Yet, Sarah is already thinking about her next challenge.
She's very concerned about her professional growth. She doesn't want to do a job that anyone can do; she wants to do a job that only she can do. This attitude is not encouraged in Ghana, a place where the status quo is strongly enforced, employment opportunities are minimal, and people stay in good jobs for fear of leaving and not finding something else. She credits her time at Ashesi with developing this desire to grow.
"There is something that happens to you at Ashesi. I would go to bed excited to go to school the next day. There was this yearning. You ignite different parts of your brain and you just can't go back to being the same."
The education that young Ghanaians and Africans from other countries like Nigeria and Ethiopia receive at Ashesi is profoundly different than the education they have received up until that point. Where most secondary schools focus on rote learning and memorization, Ashesi actively encourages creative problem solving and learning by doing. As an example, all incoming freshman are required to take a course named "The Foundations of Design and Entrepreneurship," regardless of their chosen major. This course helps them think through problems in their community and possible solutions. Many students have gone on to launch their own entrepreneurial ventures in Ghana as a result of this thinking.

Sarah comes from an early class of graduates that was with Patrick Awuah, a former Microsoft employee who returned to Ghana to start Ashesi, from the beginning and took a chance on his dream. She describes her class as a bunch of risk takers who went against the advice of their families and friends to pursue something that they really wanted for themselves.
In the midst of telling me how she was happiest at Ashesi and that she really wants to come back to the school and teach when she feels she has expertise to offer the students, she stopped. Her eyes clouded a little and she admitted that she's a little scared, because she's already been out of school for ten years and she hasn't become an expert in something yet.
She looked up at me: "Do you feel that way sometimes? That you haven't done as much as you want to do?"
Yes, Sarah, I do. I am rich in never-ending unrest.