How journalists can compassionately cover the opioid epidemic
By Sara Veltkamp, Minerva Strategies  ̶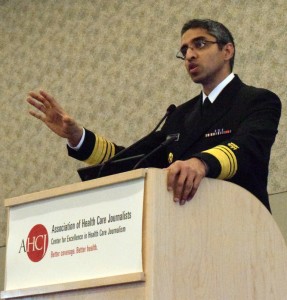 I recently attended the Association for Healthcare Journalists Conference in Cleveland Ohio – #AHCJ16 if you want to see highlights from Twitter.  With the exception of the less than balmy conditions, the conference was excellent.  Panels dissected and analyzed wide ranging US health topics from obesity to maternal mortality rates to concussions in the NFL.
In my opinion, the national opioid epidemic stole the show – a fitting result, considering how heroin and other opioid use disorders steal lives. The US Surgeon General, Dr. Vivek Murthy, focused primarily on the opioid epidemic for his luncheon address to the conference.  He stressed the importance of helping people understand that addiction isn't a moral failing and instead recognize use disorders as medical conditions. He also promised to produce a Surgeon General's report on substance use and mental health during his tenure.
In addition, I participated in a very engaged panel in which I played the role of someone who overdosed and was then revived with naloxone, a drug designed to prevent overdose death. I was told it was very convincing – "Uma Thurman-esque."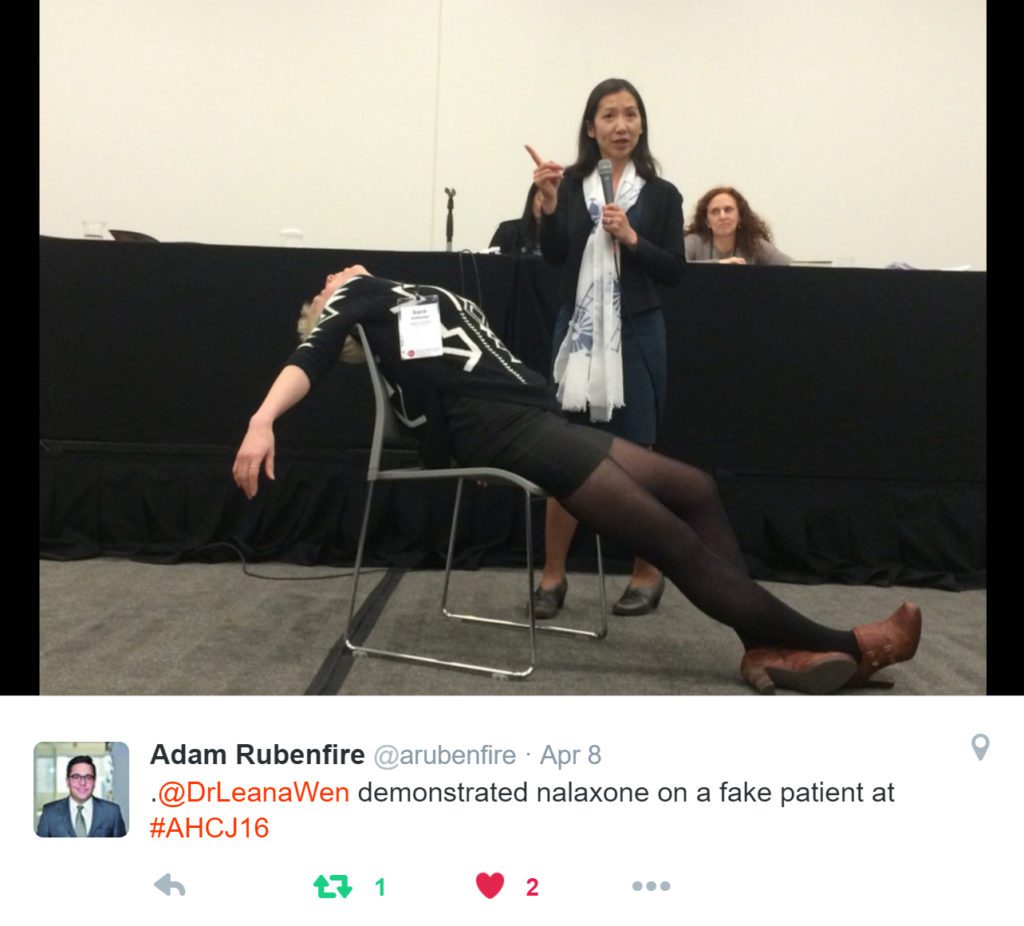 While the fake revival was amusing, the need for naloxone in the US is not. More people in the United States die each year from drug overdoses, mostly opioids, than traffic accidents.
The panel focused on highlighting common pitfalls of covering this crisis so that journalists can ensure that their coverage becomes part of the solution, rather than a perpetuation of the problem.
Panelist Maia Szalavitz, an independent journalist and author of Unbroken Brain, a book that defines a revolutionary new way to understand addiction, shared three tips for understanding and covering the opioid epidemic with respect and compassion.
Substance use disorders should be written about like all other medical disorders. We do not tell people to join a spiritual self-help group when they get diabetes.  We don't tell people to rely on a higher power and tough it out when they are dealing with cancer.  We treat people suffering from these challenges by prescribing medications that are proven to help.  Opioid use disorders should be no different.
Trust science. Substance use professionals know what works to treat addiction: Medication-assisted treatment using methadone or buprenorphine along with wraparound services like counseling, mental health, and primary care. The science supporting this method of treatment is irrefutable.
Medication assisted treatment doesn't work for everyone, because no treatment is perfect. Many people die from complications related to chemotherapy, yet we know this is the best treatment option possible for certain types of cancer.  Anecdotal evidence can be found to back up all sides of an argument but journalists should report on the stories that back up the data, not hunt for outlier examples that back up their stories.
Words matter. People suffer from substance use disorders; remember that they are people first. Addicts, dope fiends, and any other derogatory terms stereotype and define them by their condition, not their humanity. Use "people with use disorders" or "people who suffer from addiction" rather than "addicts."
Similarly, someone who is shown to have high blood glucose levels is not pronounced "dirty." Someone who has a breast tumor that is benign is not told they are "clean." Yet these words are routinely used by the public, doctors, and even those suffering from addiction to describe a positive or negative drug test. These words perpetuate the stigma that is attached this disorder and its most effective treatment.
For more on how to report on behavioral health refer to this Carter Center journalism guide. For more on my thoughts on panels at AHCJ 2016, and other musings, check out my Twitter feed and follow if you like what you see – @SVeltkamp.