How to make a healthy country in four easy steps
By Kayla Albrecht, Graduate Assistant, Michael & Susan Dell Center for Healthy Living, MPH Candidate, UT School of Public Health Austin Regional Campus—
South by Southwest (SXSW) is just around the corner in Austin, Texas. Soon the city will be packed to the brim with tech gurus, music aficionados, and camouflaged celebrities. But at the UT School of Public Health's Austin Regional Campus, no talk was more anticipated than our research center's annual lecture. Why? Because a true celebrity would deliver the talk – U.S. Surgeon General, Dr. Vivek Murthy. America's doctor.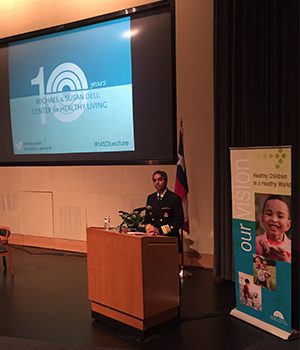 Last Thursday, the Michael & Susan Dell Center for Healthy Living hosted its 10th Annual Lectureship in Child Health, and a captive audience packed the house to hear what the most distinguished influencer in the health of our nation had to say. At first glance, I was surprised by the young and handsome appearance of America's doctor. A true McDreamy. But as Vice Admiral Murthy began his talk, his calm and confident semblance brought the room to complete and total captivation while he outlined his recipe for a healthier future.
According to Dr. Murthy, there are four key steps that our country must take in order to progress the health of our nation's children. This is what he prescribes.
Create a culture where healthy equates to happy. Healthy living could use a serious re-brand. From a young age, kids begin to consider vegetable eating as a chore, acting in dramatic repulsion at the sight of dreaded broccoli, beets and (gasp) brussel sprouts. And although Americans report more physical activity in recent years, to many, exercise is seen as a time-consuming hobby enjoyed only by the few whose schedules and wallets can afford a fancy gym membership.
Dr. Murthy explained that preferences and attitudes towards healthy habits need to be set early on. Parents can influence taste preferences of their kiddos by exposing them to a variety of healthy foods, making sure their own attitudes and behaviors reflect what they preach. At the same time, families should seek opportunities to get off the couch, get outside, and get moving on a regular basis. And creating a culture of health may begin at home, but schools, communities, policy, and media can all play a part in supporting healthy choices of Americans.
Build environments that are conducive to healthy behaviors. More and more we're finding that health is strongly influenced by a number of environments – from the physical environment to the media environment to the policy environment. Not all neighborhoods are created equal when it comes to safety, walkability, or bikeability. Too many communities lack full-service grocery stores providing fresh and healthy food options. Ads for unhealthy products riddle our televisions, our billboards, and our smartphones.
If we start to push back against the unhealthy forces and work to build environments that make healthy easier, we could make real progress towards a culture that supports healthy lifestyles.
Prioritize health of the mind and spirit, not just the body. Mental health comes up again and again as a topic that needs more attention in the United States, but little has been done to make changes to the system. It can take more than ten years to diagnose a mental illness, meaning that signs and symptoms of depression, anxiety, or other illness that arise in childhood can go unnoticed or ignored until the problem worsens later in life.
Mental illness is deeply stigmatized by our culture, and we can't afford to push it down the road much longer. So how should we address mental illness as a country? According to Dr. Murthy: "We must not divorce the health of the body from the health of the mind and the spirit." We must prioritize the emotional wellbeing of our children within schools and homes. We must tackle stigmas and misperceptions about mental illness head on by allocating more resources to services and programs. We must meditate!
Improve the ability of kiddos to give and receive kindness. You heard it, everyone. The Surgeon General of the United States of America just prescribed us all a healthy dose of KINDNESS. Dr. Murthy went on to explain that kindness is too often revered as a sign of weakness in our culture instead of a sign of strength. Yet some of the most successful people trace the origins of success to an act of kindness granted by a teacher, a friend, or a family member.
If we can help kids to see that their greatest source of strength isn't in their ability to be competitive or greedy but their capacity to be kind and accept the kindness of others, we'll create a generation of Americans that holds each other up instead of trying to get ahead.
To me, Dr. Murthy's talk was a refreshing break from the madness spewing from the current political landscape, where ideas for progress and visions of hope are too often drowned out by insults and accusations. For each obstacle he outlined, Dr. Murthy provided a simple solution.
And our country needs that sort of leadership to move the needle on health in America.